:::
<!#--所有資料+cate tab --> <!#--detail-->
Taiwan Fastener Industry Ready to Facilitate Post-Pandemic Global Economic Recovery
Online Date: 2020/04/16
Modify Date: 2020/04/28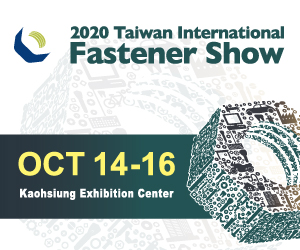 While COVID-19 continues to affect the world economy and global supply chains, new data are suggesting that through efforts such as community isolation, some countries are starting to flatten the curve. Taiwan, as one of the world's major fastener manufacturers, is ready to facilitate an eventual global economic recovery.
The pandemic has significantly disrupted the global supply chain and forced many manufacturers to halt operations. However, the global effort to overcome COVID-19 has shown encouraging results, and some countries are gradually resuming production. As more countries begin to go back to work, the world economy can and will eventually recover.
Facing challenges created by COVID-19, the Taiwan fastener industry is even more committed to providing high quality goods and services that the world needs to return to a new normal. Taiwan is the third largest screw nut exporter in the world, and the country has some of the world's most comprehensive industry clusters and supply chains. With strong R&D and manufacturing capabilities, the industry is expecting a steady growth trajectory into the post-pandemic world market.
The 2020 Taiwan International Fastener Show will be held by TAITRA at the Kaohsiung Exhibition Hall on October 14-16. The event is the third largest fastener trade show in the world and the second largest in Asia, and it is one of the best international B2B sourcing and networking platforms in the industry. The show features a complete industry ecosystem with a broad spectrum of nuts, bolts and screws for various industry including ICT, automobile, aerospace, medical equipment, construction, transportation, general machinery and precision instrument. An online version of the exhibition will also be held at the same time
For more details, see:
***TAITRA, your reliable partner for doing business or collaborating with Taiwan, has a global network of 63 branch offices dedicated to helping you connect with quality Taiwan partners, suppliers, products, and services. Contact an office near you: https://lnkd.in/eRfrjzb
***As of today, April 16, the COVID-19 outbreak has resulted in more than 2,059,000 confirmed cases worldwide. As of writing, a total of 395 confirmed cases were reported in Taiwan, with 338 imported cases, 6 deceased cases, 137 cases released from isolation, and the remainder hospitalized in stable condition. See the latest update: https://www.cdc.gov.tw/En